Cairns Connect Overview
The Atherton Tableland is the region incorporating the townships of Yungaburra, Malanda, Millaa Millaa, Ravenshoe, Herberton, Atherton and Mareeba. It is a very beautiful part of North Queensland with long drives in rich farming areas, stunning waterfalls and large volcanic lakes with lush tropical rainforest.
There is also a strong colonial history dating back to the mid 19th Century. The towns mentioned above were established for a particular reason. Some were remnant gold mining centres, some camps for loggers and timber cutters and others as railway towns. The history of the Tablelands is everywhere and the locals are happy to share their past with interested travellers.There are a number of options available for people wishing to visit the Tablelands.
For some a day tour through this rural region will highlight the more accessible sites and attractions. For others with more time the Atherton Tablelands represents the perfect opportunity to spend two or three days exploring winding back roads and sleepy little B&B's and guest houses. There are great bushwalks and picnic areas scattered throughout the entire region. The are a number of National Parks and Recreational areas that offer good camping and day visitor facilities. The weather on the Atherton Tablelands is generally a few degrees cooler than on the coast, providing a break from the sometimes stifling heat of the coast.
Some of the popular areas to visit on the Atherton Tableland include:
Yungaburra - This picturesque and very quaint town is located in the middle of the Lakes district of the Tablelands. Close by are scenic attractions like Lake Barrine, Lake Eacham and the Curtain Fig Tree. Every fourth Saturday the Yungaburra Markets are a major attraction. The Markets have become very popular in the past few years and they are well worth the drive.
| | |
| --- | --- |
| Malanda - The milk capital of North Queensland, "Malanda Milk" is an icon to residents throughout Queensland and Papua New Guinea. Malanda is a progressive township offering a solid commercial centre for surrounding farms and agricultural industries. | |
| | |
| --- | --- |
| | Millaa Millaa - This small country town is often considered the gateway to the Atherton Tablelands. Home to a number of stunning year round waterfalls including Millaa Millaa Falls, Mungalli Falls and Ellinjaa Falls to mention just a few. |
Ravenshoe - Formerly a timber milling, tin mining and dairy centre, Ravenshoe is now both a popular residential area and a popular weekend get away for people from Cairns. The Millstream Falls are found here and they are the widest waterfalls in Australia.
Herberton - This old mining town is really one of the historical centres on the Atherton Tablelands. There is a museum and the "Axe Man Hall of Fame" reflecting the strong ties with the colonial past that the region experiences.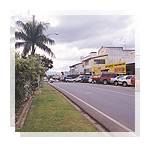 Atherton - The rich soils around Atherton produce a diverse range of crops including peanuts, maize, potatoes, avocados, macadamia nuts, flowers, coffee, mangoes and many other fruit and vegetables. A very popular and very unique attraction in Atherton are the Crystal Caves. A man made cave labyrinth found at Fascinating Facets on the main road in Atherton.
Mareeba - The centre of a large agricultural area growing tobacco, sugar cane, mangoes and coffee. An extensive irrigation scheme has produced the means to make farmable land out of what was previously a dry unproductive territory. The main attractions in Mareeba are the Granite Gorge and the Heritage Museum.
Things to See and Do
With regards to things to see and do on the Atherton Tablelands a visit to each of the towns mentioned is an excellent starting point. The Atherton Tablelands are very easy to navigate and there are literally hundreds of attractions including museums, cafes, recreation areas and sights to be seen. Most attractions are clearly sign posted and there are excellent touring maps of the Atherton Tablelands available throughout the region.
A few of the most popular attractions include:
Giant Fig Trees - there are two enormous fig trees which have become very popular attractions, the Curtain Fig Tree and the Cathedral Fig Tree (both can be found close to Yungaburra).
| | |
| --- | --- |
| Lake Eacham and Lake Barrine - both are large freshwater lakes, they are deep and surrounded by thick bush and rainforest. There are picnic and BBQ facilities at both lakes and swimming is perfectly safe and very enjoyable. There are a number of easy walking tracks in the area and Lake Barrine has cruises available and a cafe come restaurant. Cassowaries and other rainforest wildlife can be seen in this area. | |
| | |
| --- | --- |
| | Millaa Millaa Falls - are close to being the perfect waterfall. They flow all year round and there is an attractive lake at the base of the falls. The surrounding vegetation is lush and tropical with some very large ferns. There are a number of other excellent waterfalls in the area, some require a short bush walk to reach. |
Crystal Caves and Fascinating Facets - this attraction has grown to become one of the most well known tourist attractions on the Atherton Tablelands. A mix of natural beauty and fantasy have been used to create the Crystal Caves (located in Main Street Atherton).
Art Galleries - there are a number of excellent Galleries on the Tablelands. Most stock a broad range of locally made products featuring materials from the Tablelands. The atmosphere on the Atherton Tablelands appears to be conducive to creating artists and crafts people in abundance. Some of the most popular Galleries are The Gem Gallery, Glass by Diane and the Chalet Rainforest Gallery all found in Yungaburra, Wait a While Art and Craft in Malanda and Tolga Woodworks in Tolga.
The Homestead Bar, Restaurant and Lodge - just outside of Tolga is a popular place to stop for lunch or to spend the weekend. It is a beautiful homestead with large gardens and displays of old farming equipment.
| | |
| --- | --- |
| Lake Tinaroo has become a major recreation area for both tourists and Cairns locals seeking some respite from the hot coastal water. All types of water sports are available on Lake Tinaroo and it is one of the few places where you can fish for Barramundi all year round. There are recreation areas around the lake and there is a good range of accommodation in the area including motels, B&B's, camping and caravan parks. House boat's can also be hired on the lake providing the prefect way to spend a few relaxing days. | |
» Visit Tours To Go's extensive range of Atherton Tableland tours
Places to Stay and Eat
The Atherton Tablelands has an extensive range of small lodges, motels and B&B's. Most are very inexpensive and they tend to be set in the most scenic areas. There are caravan parks in most of the towns and also well equipped camping grounds throughout the entire region. There are literally hundreds of cafes, restaurants and takeaway food shops throughout the Atherton Tablelands, most are good value offering simple but hearty meals.
» Visit Cairns Dining's Atherton Tableland restaurants section
Services Available
Most of the towns on the Atherton Tablelands have all of the services that the traveller requires. The larger towns of Atherton, Malanda and Mareeba have a large range of shops and service related industries. Petrol is readily available throughout the Atherton Tablelands. The Atherton Tableland Promotional Bureau - Telephone (07) 4091 4222